Two days after Christmas the storm came.
I felt a shifting stir that morning well before the brunt of the blow hit. When I awoke the internet was out. This fact threw a wrench in my yoga routine. I tried to forge ahead with streaming a yoga video, but even that was choppy. So, I accepted my fate and skipped out on my practice. I always hesitate with this for fear of my inner sloth being validated. However on this day I had little choice, a fact I noted for later.
Shortly after I put away my mat, I realized cell service also was down. At this point I felt fairly content though. The heavy snows hadn't yet come in and the family I was staying with was still home, so I wasn't yet faced with it all. (NOTE: The family was heading out of town that day. The plan was for me to stay on at the house to take care of the pets while they were away.)
We lamented the lack of internet and cell service, but didn't let it stop us in our planning. They continued to pack up their car, and I made a shopping list to stock up on goods before I couldn't leave the house for awhile (NOTE: by awhile I meant a week).
The family made their departure as I made my way into town. My first stop was Walgreens where I found they were only allowing "cash-only" purchases due to the outage. (NOTE: come to find out this outage extended throughout much of the rocky mountain and west coast regions.)
Luckily I was able to use my card to purchase my food supplies at the grocery store and fuel up my car. I didn't know when I'd be able to leave the property again, or when I'd see other people again, so I was grateful for this ability.
When I left the house that morning the view outside my bedroom window was something like this: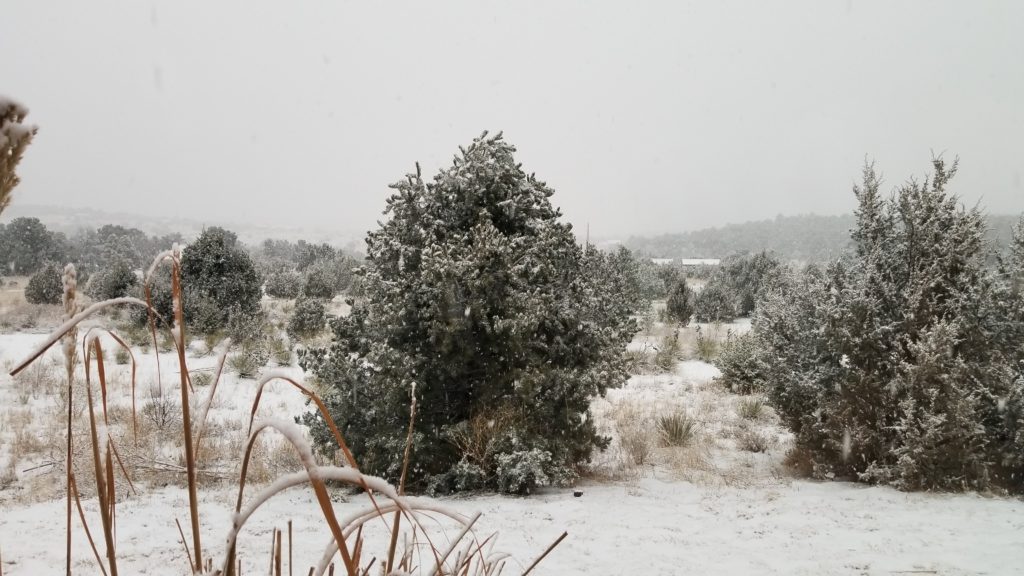 I got back to the house and the view was much the same. Still without any sort of internet or phone service, I unpacked my grocery bags and decided to get cozy on the couch to watch some movies. This plan was a solid one until the electricity went out.
There I was without electricity, internet, or phone, and completely alone on 32 acres somewhere in New Mexico.
Then the snow began.
What started as a flurry turned into this: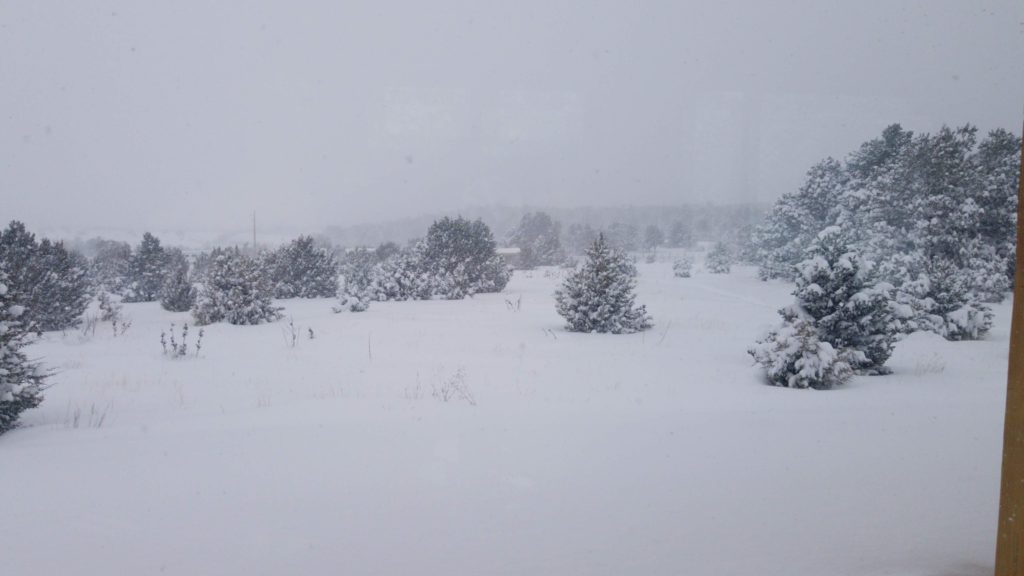 The tree I showed you earlier very shortly looked like this: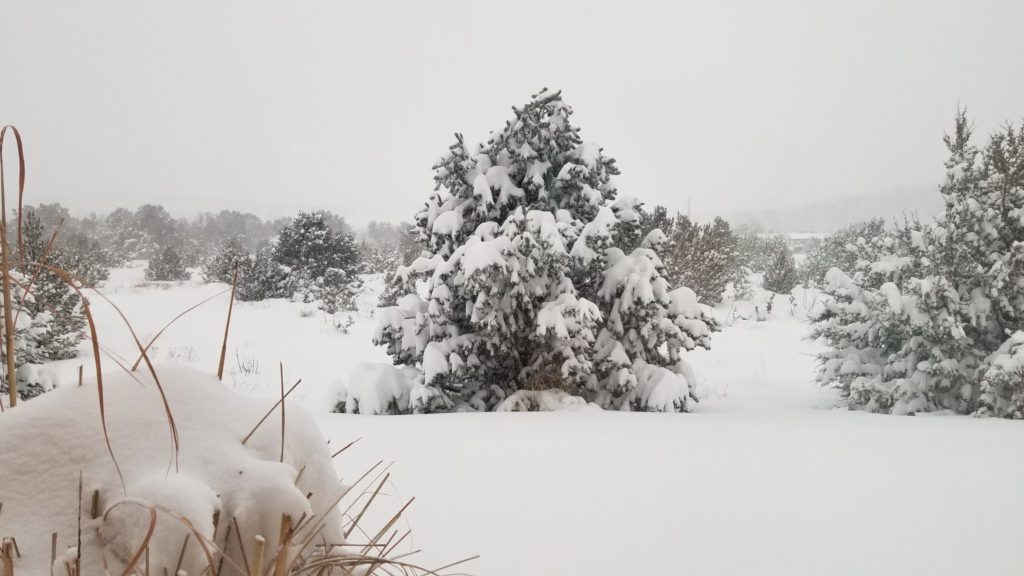 I only allowed myself to panic slightly before reminding myself I was completely safe and sound and well stocked up. The electricity came back on when it was still daylight, and I had a quiet night at home.
When I woke up the next morning, I saw the total snowfall had increased significantly.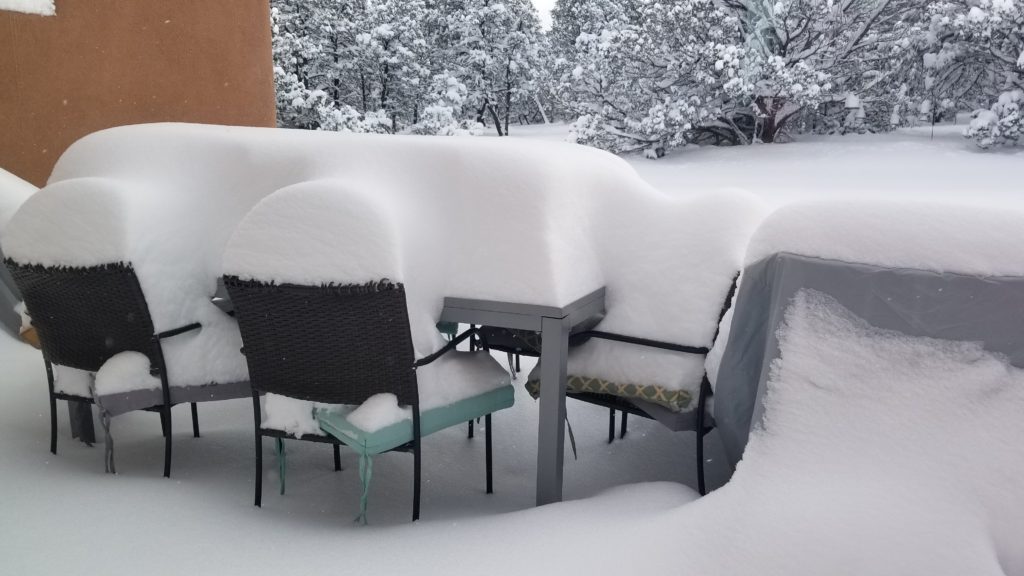 I also realized I had to walk quite a way to feed the horses. Not only did I have to walk down to feed them, but I had to carry buckets of water along with me. Here's a picture of the trail I managed to carve out: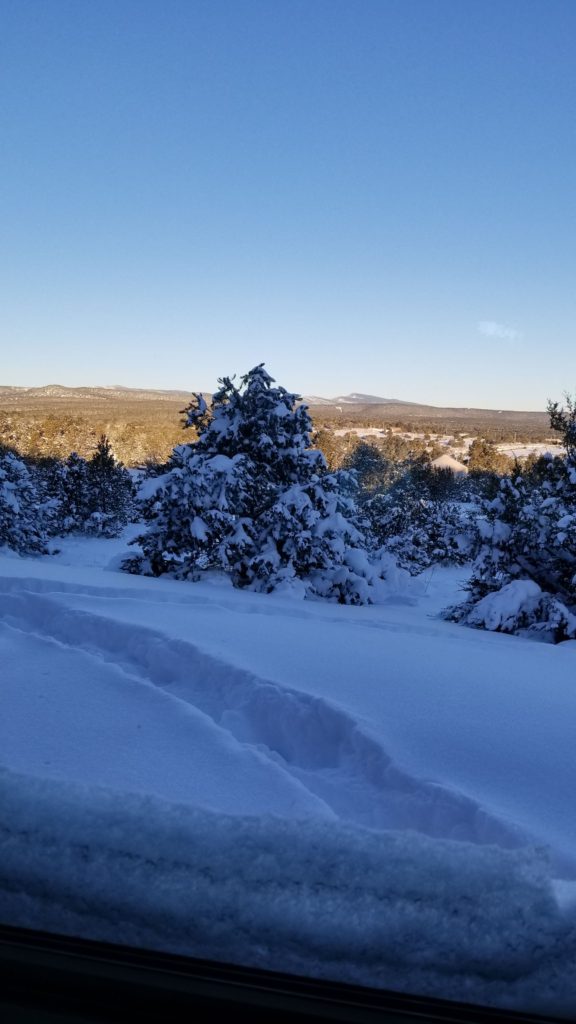 It was on these walks through the several feet of snow that the panic kicked in. What if I slip and fall and freeze to death out here and no one knows? What if a coyote comes out of the woods and attacks me? (NOTE: I have no idea if this is even something a coyote would do. I doubt it.) What if I'm unable to keep the horses fed and watered and something happens?
You get the idea. I stopped each time I noticed these thoughts. Yeah it was -2° F with the wind chill, so standing there with two heavy buckets of water wasn't the best idea, but I stopped nonetheless. I stood there, feeling the fear, noticing it, then watching it drift away. As I continued walking I let the huffing and puffing of my breath release any other old thinking and negativity.
I continued this practice while indoors (which was significantly easier, physically, anyway). Each anxious thought. Each fear filled reaction. I sat (or stood) with them all. I did little else except stay present with them.
Each time, they disappeared.
Little did I know it was this practice which clears the mind and soul, and readies us for bigger and more intense moments. Little did I know how much I would need this practice in the weeks to come. Nor did I know how much bigger those moments would be.
What I did know is as I cleared my mind and heart, so too did the weather clear, and with it came an incredible beauty: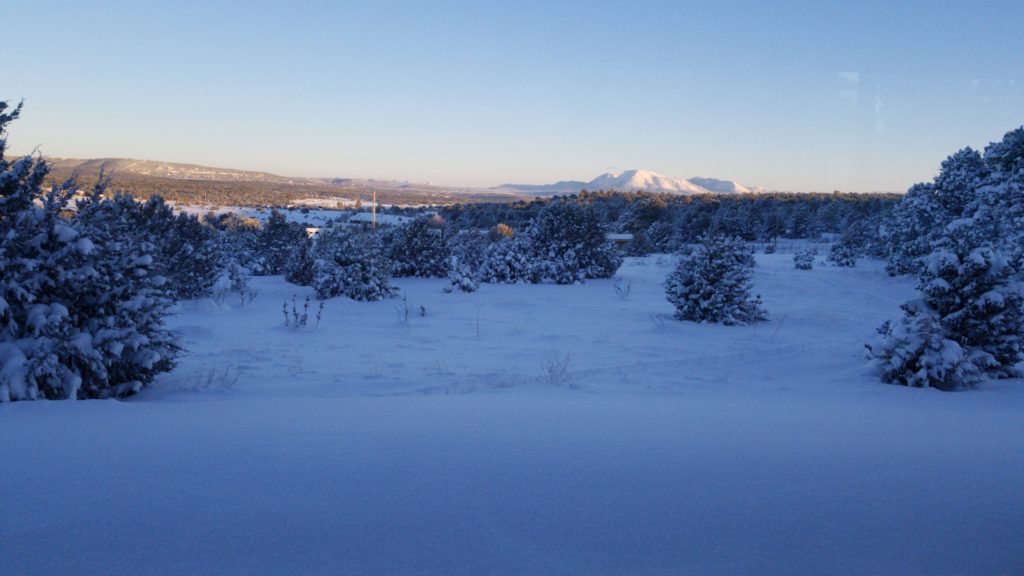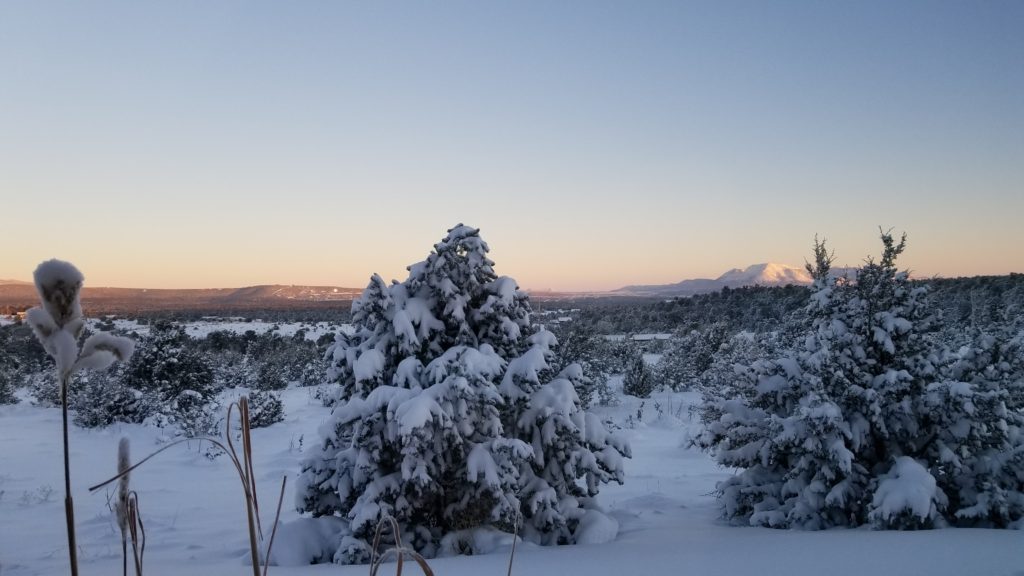 I like to think that this last part of the story is not mere coincidence; that if I continue with this practice in my everyday life, I'll bring more beauty in as well. Perhaps that beauty will also be bigger as the moments themselves grow.
Well… there's only one way to find out, isn't there?
---