Last week was a hell of a week. There's no other way to say it. It was one of those weeks filled with a lot of bad, but also a whole lot of good. It was a week which I'm grateful for, despite its challenges. In fact, I'm grateful for it because of its challenges. Finally, it was a week where I was able to clearly see why I was sent back to NYC for a spell, and this fact renewed my faith in the universe having my back.
The week started off normal enough. It wasn't until Monday afternoon when the action began. I was working away and getting a ton of great work done when I opened up my laptop to a black screen. It was a problem I had seen many times before, and I solved it by closing said screen and opening it again. Success!
I began typing something which I'm sure was incredibly profound, and that's when my screen decided to go black. Poof! There were no other warnings, nor were there signals of dismay. Just me and my black laptop screen.
I was unable to get the screen working again, and this led me to call tech support. Tech support quickly realized they were unable to help me, but since I was here in good ole New York I was able to get an appointment at the Apple Store an hour later.
The genius at the Genius Bar, Mike, was very helpful. His mantra was, "I want customers to pay the least amount possible." This mantra led to us trying a whole bunch of options, and then to me leaving the computer at the 5th Avenue store for a couple days. After the 48 hours were up, I was happy to report I left the Apple Store not only with a working laptop, but with zero effect on my wallet. Thanks, Genius Mike!
The next day, Thursday, I received a call from my mother telling me her mother, my grandmother, had passed away. It was somewhat unexpected. She had fallen a week earlier and, being a woman of 92, was unable to recover from her injuries. It was sad news. The funeral services would be the next Monday, and as chance would have it, there was a train that could take me from where I was staying in New Jersey to the town where the services were being held. Score a second sorta win for the universe!
Saturday came, and as I sat with my thoughts and emotions enjoying a calmer weekend, I received a text from a dear family member who lives in Massachusetts. He, his wife and their children were going to be in New Jersey later that day. We were able to meet up and spend several loving, fun, and uplifting hours together which helped to renew my spirit. Here's a picture of the event: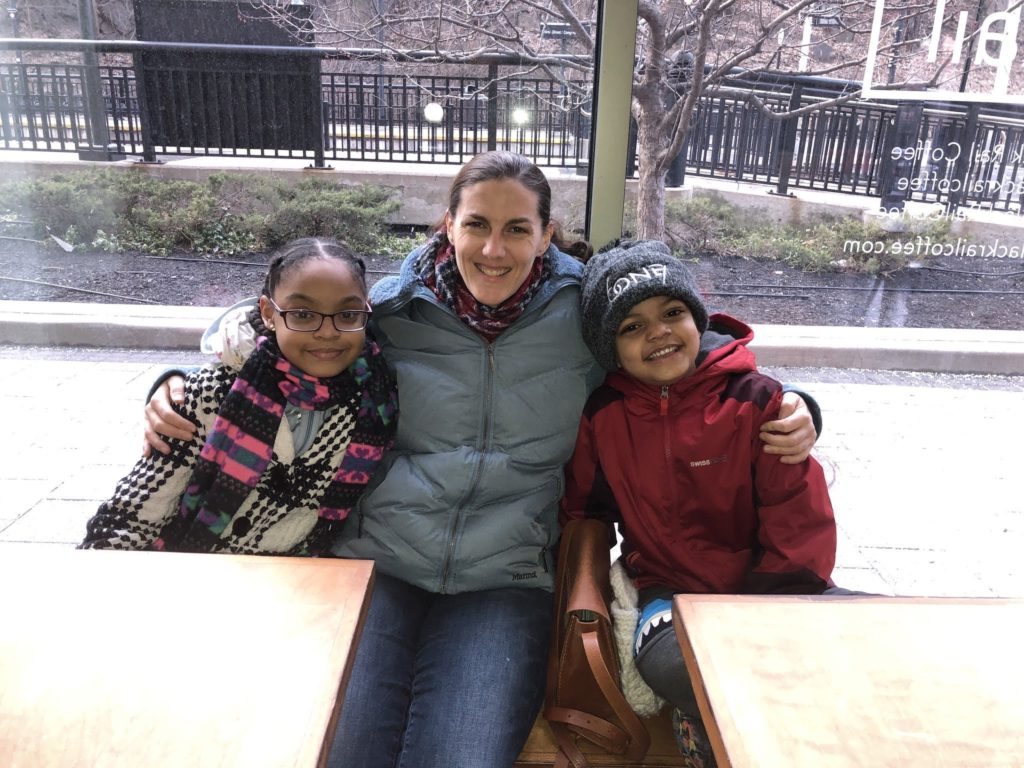 The weekend past and Monday appeared. That morning I boarded the train upstate and a few hours later made my way to my parents' car. On the ride to the funeral home I sat in our shared energy. I listened to them argue about the things people who have been married 46 years argue about, and all the while considered … well let's just say I considered a lot.
What stands out now, is the sound of the church bells. I can still hear them, actually. I can still feel the finality of their song. On the flip side I can also still feel the love that stood side by side with the grief. Yes, for once I was able to make the room to feel them both. I can also still feel my realization of their shared space, along with my realization of the spaces I've refused to share. But, all of this for another piece.
After the services and a reception with the family, I boarded the train back to New Jersey. I took the next few hours to reflect on all that happened in the past 8 days. I had lows of varying degrees, but each was followed by a high (i.e. a fixed for free computer, time to grieve and love with my family) which would not have been possible without my being here in New York. I reflected on how the universe whispered to me to go to New York while I was housesitting in Charlotte, and I saw how if I hadn't listened to it things could have been much harder.
I saw how extensive my family and support system is. From precious time with friends made family, to new insights about how my family loves, my cup was quite full.
Finally, I saw how through the light comes darkness, and how through the darkness the light becomes that much brighter.
I saw a lot. I experience a lot. It was a lot.
I mean, I DID tell you it was a hell of a week, didn't I?
---