I write this post from a friend's apartment in Hoboken, NJ. Here I sit looking at their "Home Sweet Apartment" sign ready to share more about the additional 24 days I spent road-tripping the East Coast this Summer. But, instead of wanting to write, all I can do is stare at that sign.
Home.
I'm not sad nor regretful as I stare, more bewildered or perplexed. Maybe I'm just considering the meaning of the word. I say this because even though I haven't been in a home of my own for the past 2.5 months, I've felt at home for much of my journey. I believe this latest trip, and the people I spent time with along the way, have greatly contributed to this state.
Before I get into all that, allow me to share with you where my friend and I were staying this July.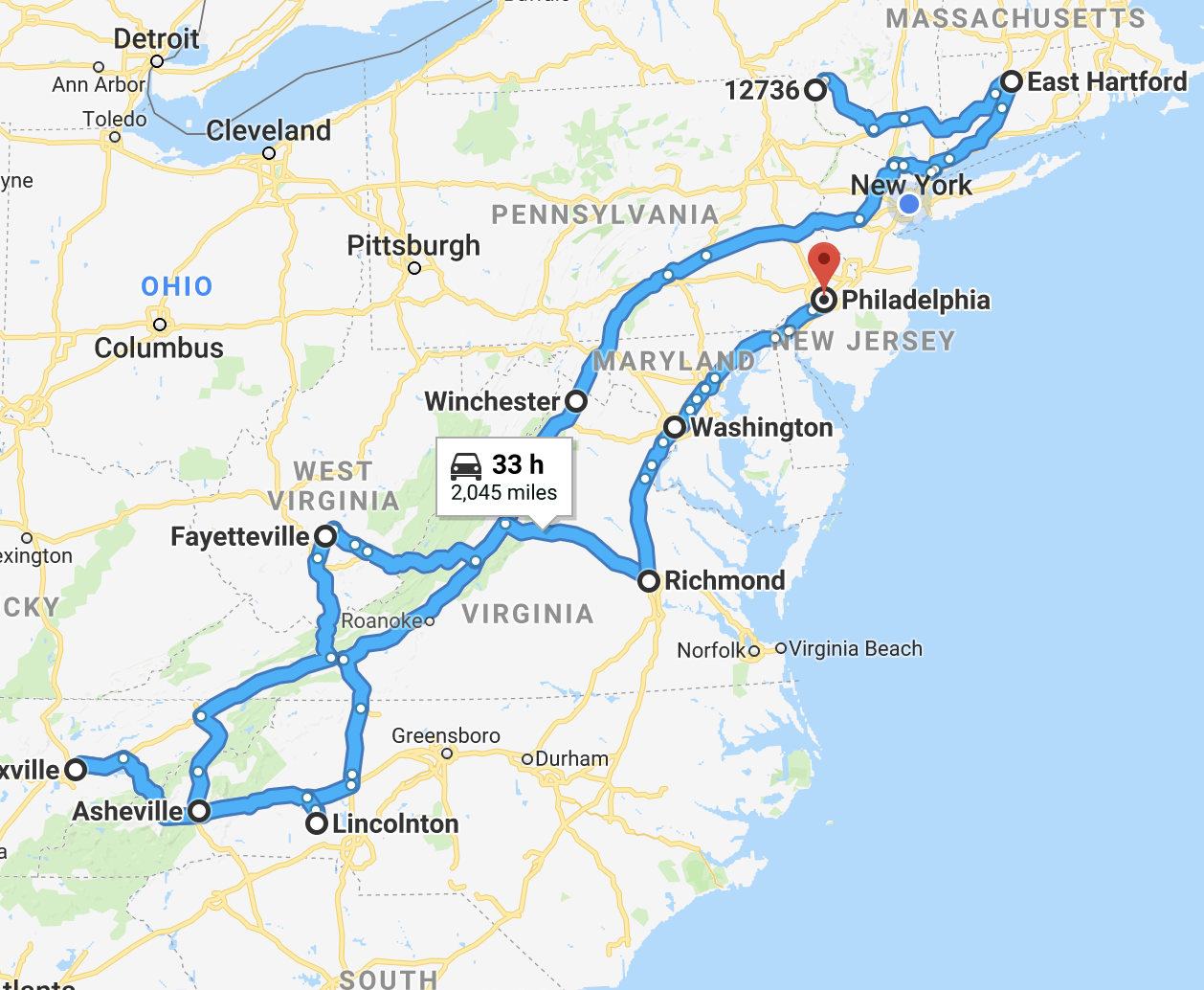 Unfortunately, Google Maps wouldn't allow me to add a line from Philadelphia back up to my hometown of Fremont Center, NY, but hopefully you get the point regardless. During the trip, we stayed at the homes of 4 different friends and also spent nights at 5 hotels (well, really 4 hotels plus an AirBnB in DC which was not only conveniently located, but included a pinball machine and jukebox!)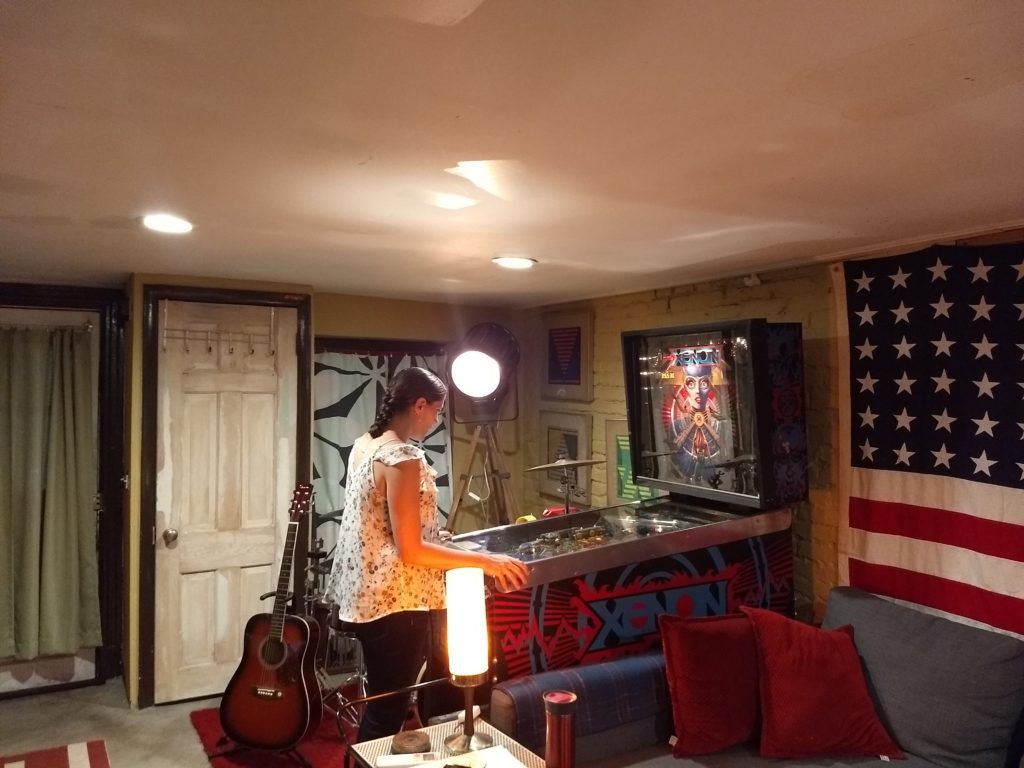 It was quite the journey, and of course I learned a lot along the way. I can't begin to pretend I'll be able to share all I've learned in one post, so I'd like to use this post to bring up the top lessons learned which come to mind. Here we go!
Stay Open to Random Acts of Kindness
I realize I'm a pretty extroverted person and so to others it may seem that I'm adventurous and open to anything, but that isn't always the case. Much of the time I close myself off to new things as a form of protection. This was something I was actively working on along this trip, and this work paid off.
For example, instead of closing myself off due to fear of rejection, I opened myself and reached out to friends whom I haven't talked to in a long time to see if they'd be open to having a couple of visitors. Not one said no. Instead everyone we stayed with was overjoyed with our visit! If I hadn't stayed open, I wouldn't have come close to having the experiences I'm so very grateful for.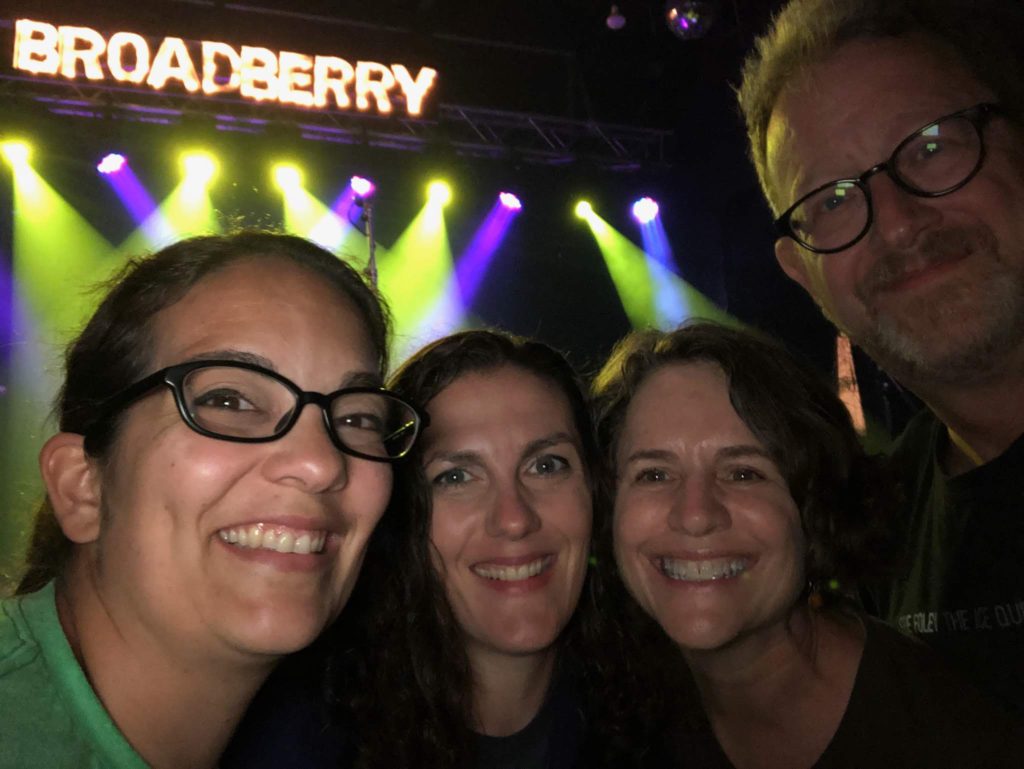 Also, when we were up in New England I was explaining to a friend what I was doing and why. This friend isn't the wealthiest person (He's married with two wonderful, young children and is, like many of us, just trying to make ends meet), but he so wanted to show his love for our adventure that he handed over a gift card for us to use along the way. When I tried to deny it, he wouldn't take no for an answer. This small act made a big impact on me, and this energy carried me through the trip.
Don't Shy Away From the Hard Times
Most of my friends and family reside on the East Coast of the United States, which meant I spent a lot of time visiting and traveling with friends I've known for years. Some of these interactions were successful and some of them were not. I was faced with some real relationship trials this go-round. I found myself mourning old relationships and feeling distraught in thinking what would come next.
Thing is this time around I leaned into these hard times. I sat in the hard feelings and I reflected on what they were. Through all of this I grew leaps and bounds, and shed old energy and regrets. Had I turned away from the despair I wouldn't have seen the other side of it, which is where I now get to dwell.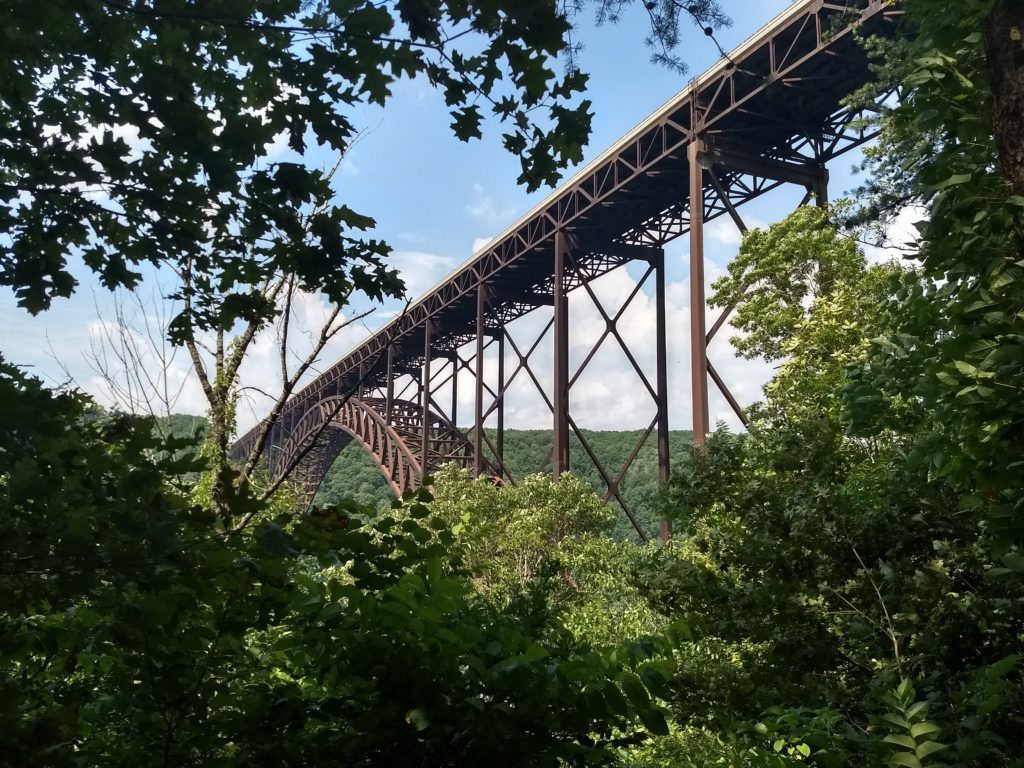 See the Love
It doesn't seem like it given the current state of our media, but there is a whole lot of love out there in the world. For the 24 days I was on the road I was cloaked in it. I reconnected and deepened connections with friends in ways I never even considered. There were times when the love from both friends AND strangers lifted and carried me through.
Besides the overwhelming love from friends, one example which comes to mind is from our stay in Winchester, VA. We stayed over 1 night at the local Motel 6. In the morning the hotel Wi-Fi wasn't working in our room, though it was in the lobby. As I sat in the lobby working, I saw the front desk employee (who had been on duty overnight since 10pm and wasn't leaving until 4pm due to a sick co-worker) exhibit so much kindness to all who came in. There was a couple who came in who couldn't afford full price for a night so she made an exception. There was a family who came in who couldn't speak English and she went out of her way to calmly and caringly get them a comfortable room. It was better to watch than any TV show out there.
I Should Write a Book
I write this somewhat sarcastically, but I won't deny that it came up several times along the trip. I'm sure sharing my story will happen in some way, but with several different people around me saying this I feel like I should get cracking on it!
The World is Beautiful
There's not much else to say here. Take a look around! There's so much beauty and wonder waiting to inspire you. Take 30 seconds and really SEE it.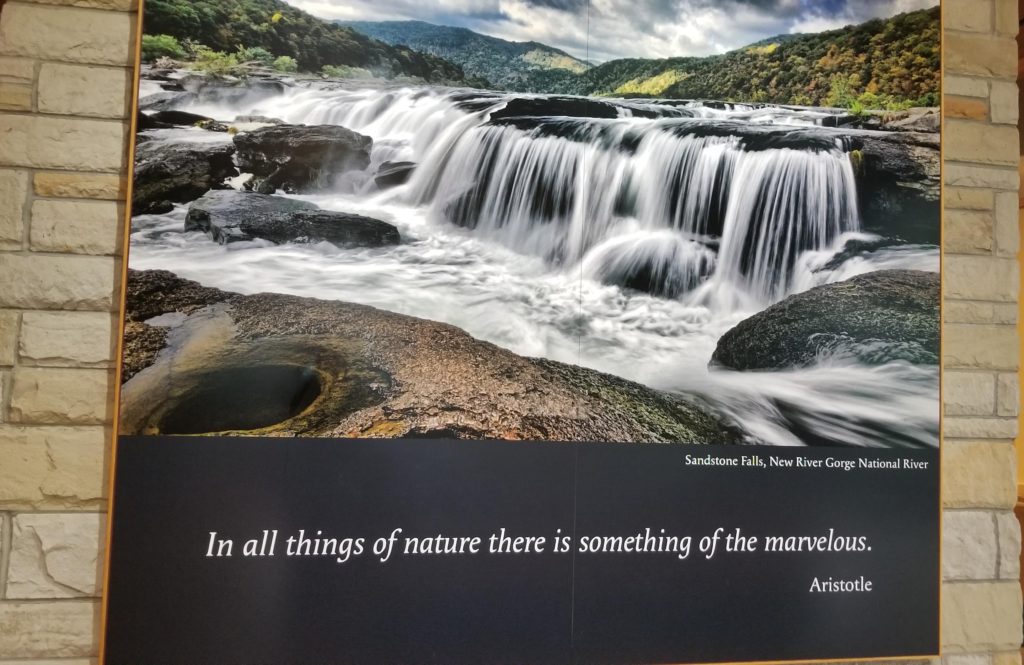 ---
As I mentioned, these are just a few of the lessons and reflections which came to me. There was also the idea of working hard and following your passions which I learned from touring Dollywood,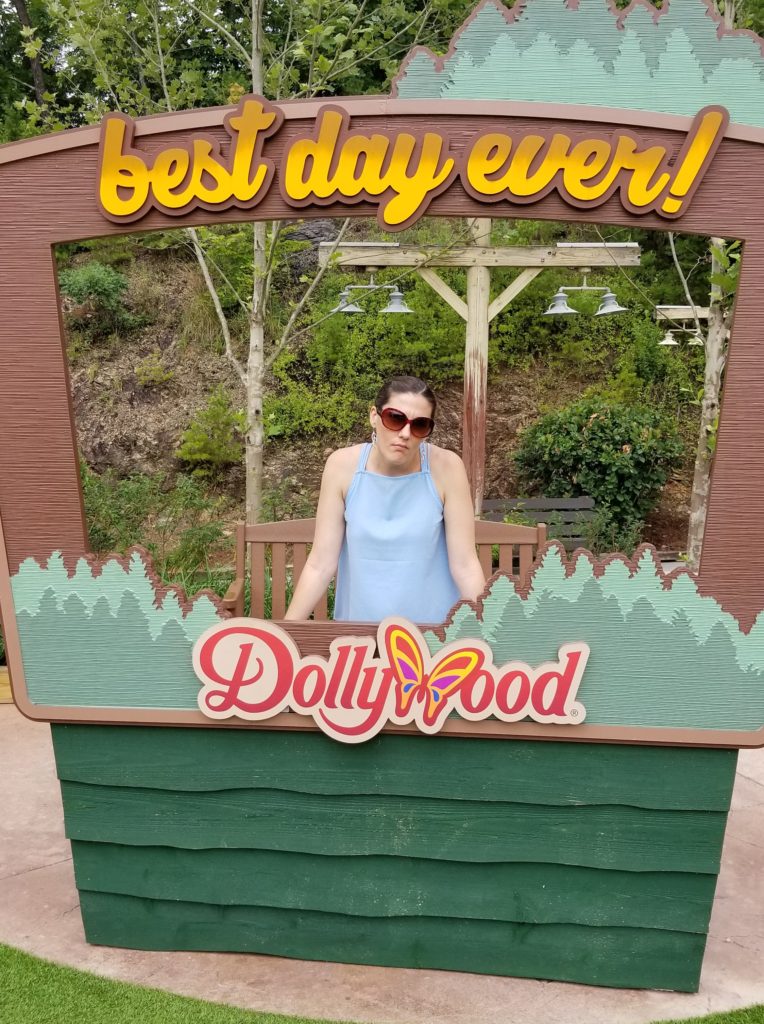 and the newest Sierra Nevada Brewing property.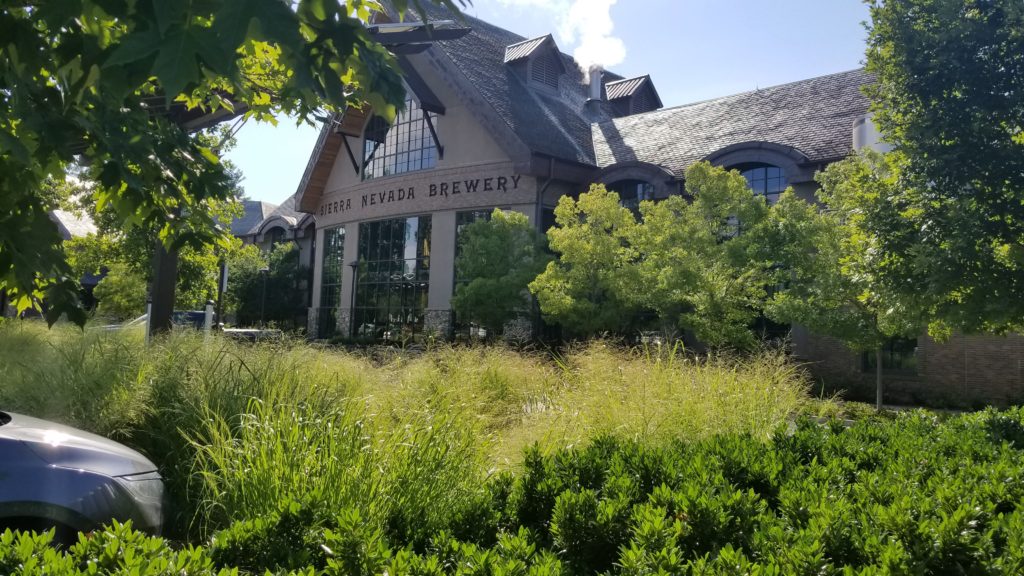 But, those are for another time.
For now, I'm a bit in need of a rest. I'll be heading back to the West Coast in a few days and when I get there I'm not sure what kind of life I'll find, so I want to be ready for it. One thing I am sure of is I'll take these and many more lessons and beautiful (and not so beautiful) moments with me from which to be inspired, learn, grow, and adventure even more.
Wish me luck!
---