I first learned of the town called Madrid, New Mexico from the homeowners of the house where I'm staying. From there the name kept coming up. Combine this with having driven through on my way to Santa Fe the week before, and I knew I had to visit. The Saturday before Christmas seemed the perfect time. After-all, there were a few more presents I wanted to secure, AND I figured some holiday cheer would be in the air.
I woke up early to feed the horses, and about mid-morning I made my way to the town. It was only a 45 minute drive, and, as I mentioned in previous posts, the landscape along the way was stunning.
Madrid is a small town, so parking wasn't an issue. I found a spot in front of one of the shops, then began my walking adventure. For my first stop I, for some reason, walked into one of the local art galleries. I wasn't in the market for anything there, but something drew me inside. It wasn't long before I found out what.
As I was looking around the gallery, the man behind the counter began speaking to me. It turned out he was from Albany, NY. He and his wife (and now his adult children) are artists, and they decided to move to New Mexico to explore their art some 31 years ago. We exchanged war stories of winters back East. I asked him, and he told me, about his adventures in the West. Needless to say when I left the shop I not only felt full of good vibes, but I was reminded that I'm never really alone.
My next stop was at a place I had read about online, the Gypsy Gem. I was looking for some earrings for my mom, and this seemed the place to find them. When I entered the shop I was greeted by a young man in his 20s. He let me know to ask him for help should I need any, after which I began making my way around the shop.
Several moments later I found myself engaged in another full on conversation. This time I learned the young man had just moved to Madrid last month from Miami. He was having a hard time finding a job in sales there due to the tattoos on his arms and face, but a friend to him that his parents owned a shop here and would certainly hire him. They did, and here he was.
I also learned he was getting used to the colder weather. In fact, he was very excited to have purchased his first wood stove after learning just how expensive propane heat was. This young man's stories touched me. Not because they were particularly endearing, but because I could very much relate to them.
I remembered having a hard time grappling with heating costs at my first post college apartment in Connecticut. I also remembered moving across the country to San Antonio, Texas due to a friend's suggestion. It was like peering through a looking glass into the past. I shared with him my current journey which we bonded over, and, although I left the shop without a gift for my mother, my step was a bit lighter the rest of the day.
My step was not too light for an afternoon coffee however, so my next stop was the Java Junction. Note that I had to walk past this before arriving: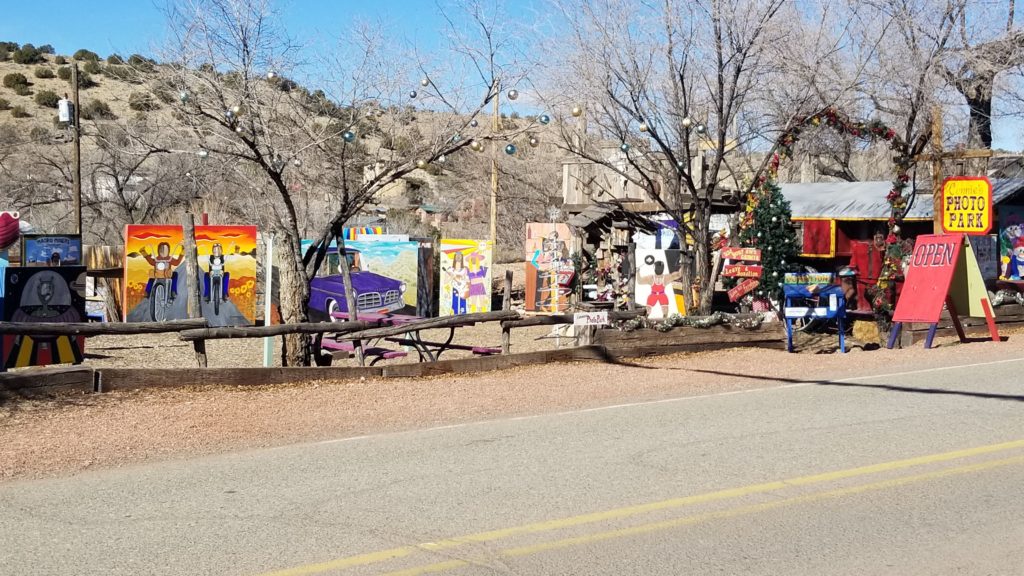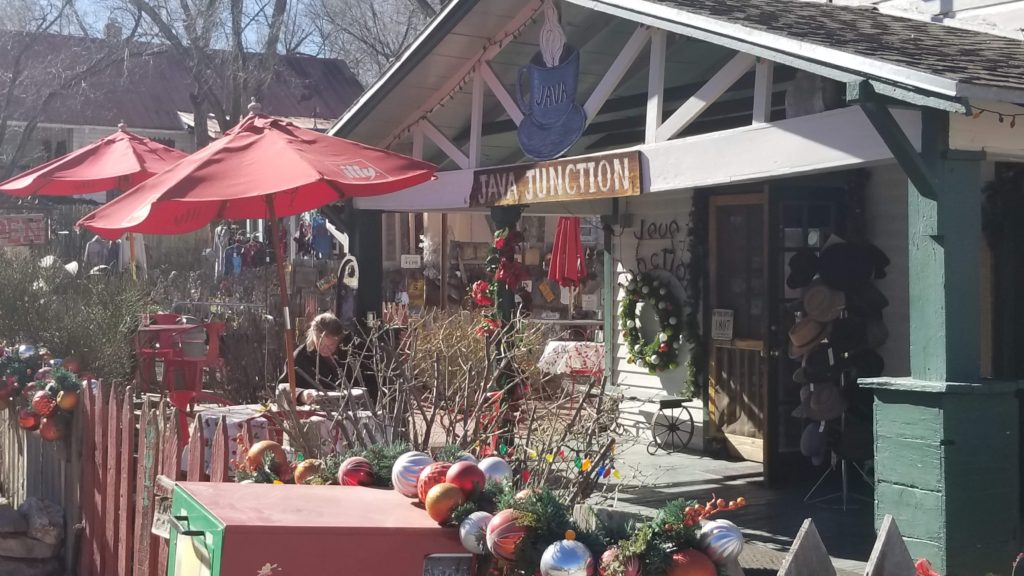 I was delighted to find they served and sold beans which were locally roasted in Santa Fe. I had yet to try any local roasts, and thankfully I was not disappointed. I stocked up on coffee for the house, then made my way to a local chocolate shop.
This stop was like the chocolate equivalent of Cheers. A local man sat on a stool chatting. A worker made chocolate in the back. The owner gave me tastes of her amazing chocolate masterpieces while chatting about friends and family. It was a really great environment. I bought some of the wares to have around the house when the family came back for the holiday, and was on my way.
After chocolate I made my way to a final jewelry shop. Within the first few minutes I saw a pair of earrings I liked. I was going to keep looking, but realized that energy would be wasted. These were the prize of the day!
I secured the turquoise beauties then left the shop and the town. When I arrived home, I put away my wares and enjoyed the quiet afternoon. Towards the end of the day, this view greeted me on my walk down to feed the horses.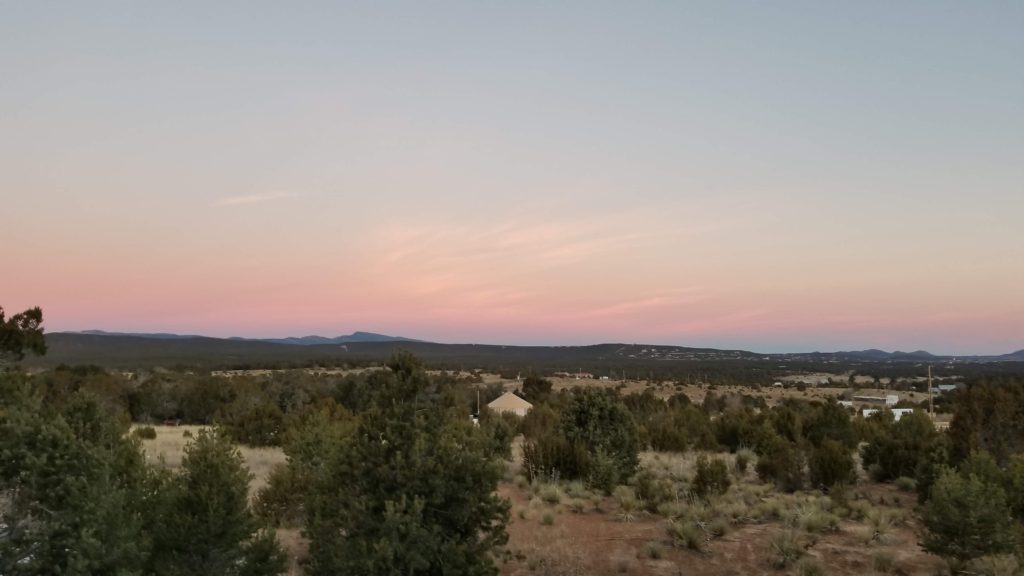 When I was done, I made the trek back to the house and reflected on the beauty of a day well spent. To have strangers share their lives and art with me is something I'm truly grateful for. Not only does it expand my understanding of others, but it helps me reflect on myself, what I've been through, and who I want to be.
Not too bad for a day in small town New Mexico, right?
---